First things first, PV02 has another comic update!
You can read it here: https://www.pv02comic.com/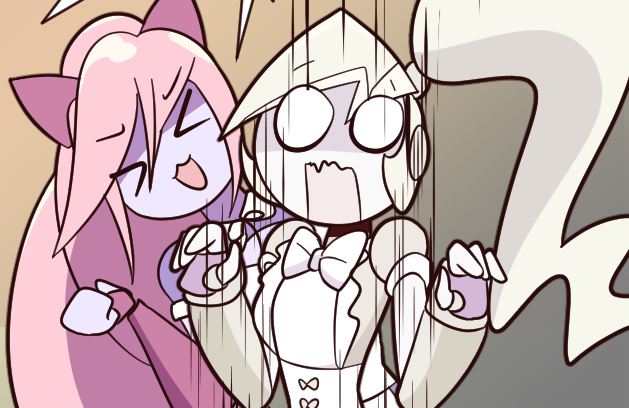 I'm still kinda at an impasse project-wise. I don't know exactly what I'll work on next for my NSFW project. For SFW, I still have Hiro the Dense 2 to work on, and have been dragging my feet with the critique video. Woo.
Also kinda had art block for the past few days.
Also over on my Patreon a lot of people recently hit their milestone rewards, so I've been getting through those.
---
Thank you all who liked Curly Brace: Hacked 2! I'm rather fond of the style change in it, just cause it emulates the style of the game more closely.
Some things I've realized (or re-realized. I already knew this stuff. Why didn't I follow it???): if you're doing a single continuous scene in Toon Boom, don't try to get fancy with doing loops externally, and don't separate it into cutoff points. Just make it one big file, and loop things manually. Yeah, Hacked 2 would've been about 6000 frames, instead of 5 scenes that were at most 300 frames that looped in AE, but I would've had way more minute control over things, and it would've been easier to edit and fix parts. Plus I wouldn't need looping markers.
The biggest change I'd've made however probably would've been to zoom in more, or do a few cuts to more intimate angles. One big advantage of the first one was it was done from a webcam perspective, which meant it was close and front-on. I wanted a 3Q angle for the climax scene.
Granted, part of why I didn't do multiple angles was cause I wanted to get this done quickly--just two months after releasing the Shantae animation, which had taken me a whole year. The prior one had taken like 4 months or so. That's pretty impressive to me time-wise, to be honest.